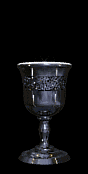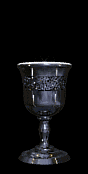 Had you told me years ago ,
I 'd find a friend so dear ,
I would have laughed and shrugged it off,
" I never will . " , I feared .
But through a magic looking glass ,
my skeptic eyes did see ,
a gentle, caring, dragon babe ;
peering back at me .
Although she was my Sister's love ,
I was so shocked to find ,
a special friend she had become ,
she gave me all her time .
We spent our nights chatting late ,
making pages till the dawn ,
and when I woke, I could not wait ,
to see if she was on .
And so my Sister , now she was ,
and I believe it's true ,
from lonliness we forged our bond ,
in ways we never knew .
By gazing in a magic box ,
we touched across the miles .
We shared our special , secret , thoughts ;
we made each other smile .
I learned from her, the Wiccan Rede ,
and of casting spells .
She learned from me, to build a page ,
and use Html .
So my Sister , when you find ,
this page I've built anew ,
Remember this , my Lori dear ,
I made it just for you !
All above graphics are:
"Copyright © Robin Wood 1997, Used with Permission"